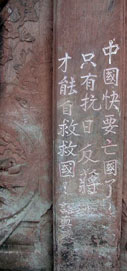 People
People
"People" presents biographical sketches of Xiakou villagers and related individuals who are subjects or informants in the ethnography, as well as some historical figures (including gods) and contemporary actors who have influenced the village and broader Ya'an region. While there are references in the database to major national figures, the focus here is not on Mao Zedong or Jiang Jieshi, but rather on local people who constitute the cast of characters for the story we tell.
People entries in the database are comprised of descriptions of significant figures, with links to places, features, media objects (such as photographs and recordings), and texts (such as interview transcripts or documents) related to that particular person. In addition to an alphabetical index of names, a kinship diagram and a village map connecting individuals to households can be accessed through the People tool page, below.
Our aim in creating a People mode of access to the ethnography is to explore how biography contributes to our understanding of village life in China, particularly since rural people are often lumped together as statistics rather than treated as individuals. To that end, the materials gathered here aim at creating portraits of people and relationships within the village. Readers can focus on an individual and see how one person is related to the overall story and to the particular evidence from which that story is crafted. The section on kinship is a diagram illustrating the kin relations that connect and divide the characters portrayed. The quality and character of these relationships are examined as both the product of and condition for the particular way historical forces have unfolded in this place.
Name Index
Kinship Diagram
Village Map