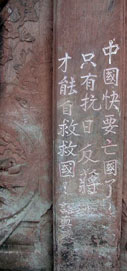 Places
Places
"Places" refer to the specific administrative units into which the landscape studied in this ethnography is divided; that is, the nesting divisions of municipality (or prefecture), county, township, village, production team. Within that finite administrative structure, we identify many particular "features" in the landscape that we categorize as natural features, sacred features, infrastructure, monuments, or public space. Each place, then, is a spatially delimited administrative unit that contains an unlimited number of features. Taken together, administrative units and particular features constitute the place references local people use to navigate their landscape.
Places can be explored below through the map interfaces or through the hierarchical list of all places in the database and their associated content, features, media objects, people, and texts. The North Road interactive map displays features in the five townships along the north road that constitute the core area of our fieldwork. Readers can sort the features on the map by type and historical period to get a sense of how different kinds of features are related to each other in the landscape, and how those relations have changed over time. Links on the map provide direct access to the database entry on each feature displayed. Reversing the flow is a historical case study, presented through interactive map layers, of hydraulic engineering in Hanyuan County and its relation to a 2004 dam protest. The map layers tell a story and also allow readers to combine displays of topography, administration, protest sites, temples, trade routes, ethnicity, and hydraulic infrastructure such as irrigation, land reclamation, and hydropower. Mapping Ya'an is a photo essay that examines the changing ways in which the local landscape has been represented in maps over history.
While the administrative schema of places is finite, bounded, and complete, our research data on those places is neither exhaustive nor evenly distributed geographically. The features included in the database reflect our interests and opportunities, as well as the local knowledge of the people we knew best. "Places" can thus be understood as a subjective undertaking, with more detail provided for places where we spent more time, and as an open-ended (or impossible) undertaking, since even the one small valley along the north road provides more interesting sites than we could possibly
catalogue.